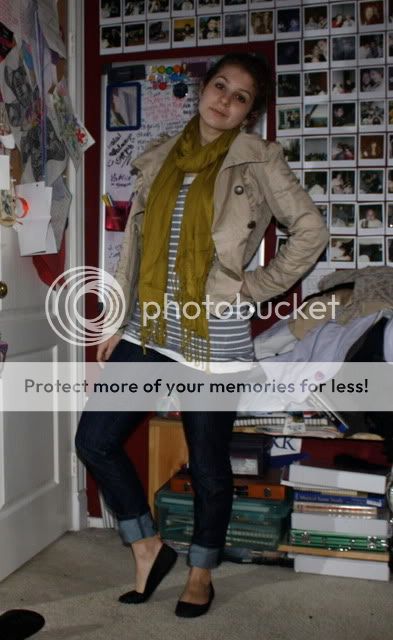 Outfit:
Top, Charlotte Russe. I bought two striped ones in different colors!
Jeans, Marciano. I've been rolling them up a bit lately. I love the look of rolled up skinny jeans. I think it's adorable when you show off a little ankle with your ballet flats.
Jacket, Le Mode Emporium in Ventura. On sale for $15. It's got the cutest detailing. I bought it on the drive up to Santa Barbara on Thursday. The jacket I had brought didn't really go with my outfit, so I got this as a substitute. It's not the warmest, but it'll be amazing during the summer when my thick, dark jackets just don't work with anything.
Flats, Reflection. $10. They're a bit small, but I deal.
Scarf, Christmas gift. It's become such a staple of my wardrobe. The green is so different, I just can't help but love it!